Objectives of idp lab
We will support urban design for earthquake and tsunami resilient communities through reseach on disaster prevention.
We will contribute to urban and port design with resilient functions to the industrial disaster devastating oil spill, fire and explosion in large-scale industrial parks caused by large-scale natural disaster like earthquake, tsunami and high tides. We will also contribute to construction of maritime disaster prevention systems for oil spills caused by ship collision and wreck, spills of hazardous materials from deepsea oil and gas production platforms, and earthquake and tsunami triggered by activities of seabed active faults accompanying seepage of methane gas.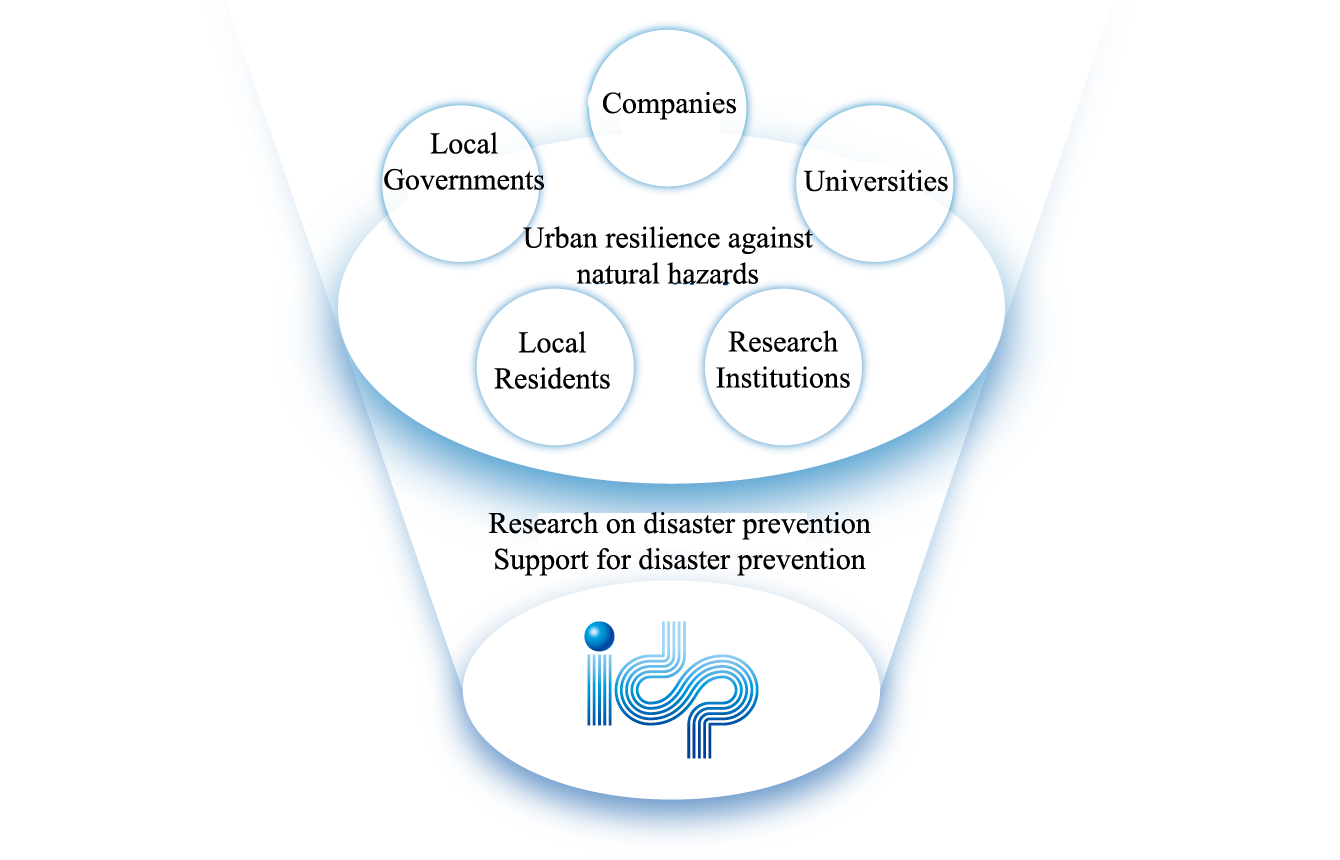 Tasks to be tackled
We will support the visualization of earthquake and tsunami triggered disaster through disaster prevention researches.
Industrial disaster in large scaled industrial parks caused by large scaled natural hazards exerts not only oil spills from oil tanks by earthquake and tsunami, fires and explosions of gas tanks by earthquake, and tsunami-triggered fires by mixing of wooden debris and spilled oil on land, but also collisions of drifting ships by tsunami inside the bay with oil tanks and gas tanks, and with other drifting ships, obstacles consisting of spilled oil, debris, and drifting ships against seaway rescue operations. We will support visualization of earthquake and tsunami triggered disasters and the effects of those reduction methods through scientific tools.

We will also propose systems for long-term monitoring of drifting spilled oil on sea surface caused by collision and stranding of oil tankers, for periodic monitoring of spilled oil and gas from deepsea oil production facilities, and methane gas seepage from seafloor active faults, and for acquiring information of advection and diffusion of underwater oil and gas.
1. Minimization of tsunami-triggered oil spill from oil tanks
2. Minimization of earthquake-triggered fire and explosion of gas tanks
3. Minimization of tsunami-triggered fire caused by mixing of wooden debris and spilled oil
4. Minimization of collisions of drifting ships by tsunami inside the bay with oil tanks and gas tanks, and with other drifting ships
5. Minimization of stalled seaway rescue operations within spilled oil, debris, and drifting ships
6. Construction of system for long-term monitoring of drifting spilled oil on sea surface caused by collision and stranding of oil tankers
7. Construction of system for periodic monitoring of spilled oil and gas from deepsea oil production facilities, and methane gas seepage from seafloor active faults
8. Construction of system for acquiring information of advection and diffusion of underwater oil and gas